For now, Vintrock is a team of one.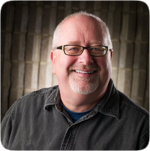 Geoff Kratz
For nearly 4 decades, I built and maintained software, as well as had taken on system administration roles from time to time. Some may remember that, on this site, I was briefly a game developer. The bulk of my experience has been building large, complex systems for financial markets, mainly trading systems for equities. Part of that work allowed me to automate important parts of national economies in countries around the world. I am also a co-founder of BIDS Trading, which is an important part of Wall Street as the one of the largest block pools. If you work in financial markets, you'll know what that is. If not, well, it's complicated.
This experience was incredible. I got to travel the world, and see a lot of countries (some of them not known for being tourist destinations) and experience first-hand many different cultures. However, my work was rather obscure. Even my family really had no clue what I did, with the exception of my little brother, who worked in investment banking and still does major business deals. I worked in a world that affected the lives of millions of people, but few really know how or why.
The nature of my job, as a travelling technologist, meant that I almost always had to travel to some place on the other side of the world on a few hours' notice. It wasn't unusual for my boss to wander into my office on a Friday morning and say "pack your bags, you're off to India tonight". I usually had several visas for countries where we had customers "just in case". In some ways, it was like being James Bond, but minus the guns, the violence (although not the risk to life and limb on rare occasion), the girls, and the Aston Martin. I haven't visited all 7 continents yet, but I'm working on that. I have, however, flown all the way around the globe 4 times now.
Creating is what I do. If it isn't in code, it is in Lego, or wood and metal. But I also craft worlds and universes, and then try to fill them with stories. I haven't done a lot, but I have started to do more. That is part of what Vintrock is now about: a venue for me to get my stories (and eventually music, poetry, and yes, possibly even games) out to the rest of the world. Some of my work, though, will be for commercial gain, so I may post excerpts, but those will (hopefully, eventually) be marketed by representation (once I find someone).
While Jonathan, Tracy, Joanne, and Warren are not currently on this team, I owe them a debt of gratitude for being part of the team in Vintrock Version 1.0. They were all essential to our attempt to build a game studio, and Vintrock could never have released 3SB without them. They are amazing and immensely talented people, and it was my privilege to work with them. I hold the hope that we may all work on something again in the future.